Desde que era una niña me ha fascinado la fotografía de fauna y las historias sobre la vida salvaje, incluso, en aquella época, mi lectura no era la habitual en una niña de mi edad. Cuando mis amigas leían libros de Enid Blyton, yo exploraba todos los libros de naturaleza y fauna que encontraba en las librerías y bibliotecas de amigos y conocidos. Me hipnotizaron los libros de Gerald Durrell, que se convirtió en mi autor preferido e impulsor de mis sueños de aventuras, viajes y fotografías. Leí tantas veces sus aventuras e historias que los libros acabaron deshojándose entre mis manos, pero no importaba, las imágenes que describía ya estaban en mi mente. La trilogía de "Nacida Libre" escrita por Joy Adamson, que narraba la vida de la leona Elsa y sus cachorros se convirtió en otra grandísima y emocionante fuente de inspiración y sueños. Durante las noches de colegio, antes de ir a dormir, no me podía perder ningún episodio de "El hombre y la tierra" de Félix Rodríguez de la Fuente, a pesar de la constante e indulgente amenaza de mi madre por mandarme a la cama. Ella siempre entendió mi amor y respeto por el mundo animal.
Yo soñaba con viajar a África, a la India, a Norte y Sur América, a las islas Galapagos, a Asia, a Australia, a Tasmania, a Nueva Zelanda, al Ártico y a la Antártica…., daba lo mismo donde siempre y cuando pudiese ver la fauna en libertad. Este amor (o quizás se debería llamar obsesión) me ha acompañado siempre y en plena adolescencia, cuando mis amigas se gastaban la paga comprando discos (sí, los de vinilo!) de música pop, ropa o maquillaje, yo me gastaba todo lo que ahorraba en revistas de National Geographic. ¡Qué fotografías!, ¡Qué paisajes!, ¡Cuantos sueños! 

Con el paso de los años, mi sueño de ir a vivir a África o la India para estudiar y fotografiar la fauna se fue desvaneciendo poco a poco, convirtiéndose en algo lejano e inalcanzable, pero no se olvidó. Y por fin, con treinta y ocho años hice mi primer safari fotográfico. Estuve en el Delta del Okavango en Botswana y aunque suene (muy) cursi, ese viaje me cambió. Las imágenes e historias de mi infancia volvieron a mi memoria y allí, en medio del continente africano, se despertó mi pasión por la fotografía.
El día de mi cuarenta cumpleaños, me autoregalé mi primera cámara reflex, una Nikon D90 que además incluía un objetivo 18-105mm, ¡un gran regalo para una nueva aventura! Con los años, mi equipo fotográfico ha ido profesionalizándose, pero todavía tengo mi fiel y ya viejecita Nikon D90.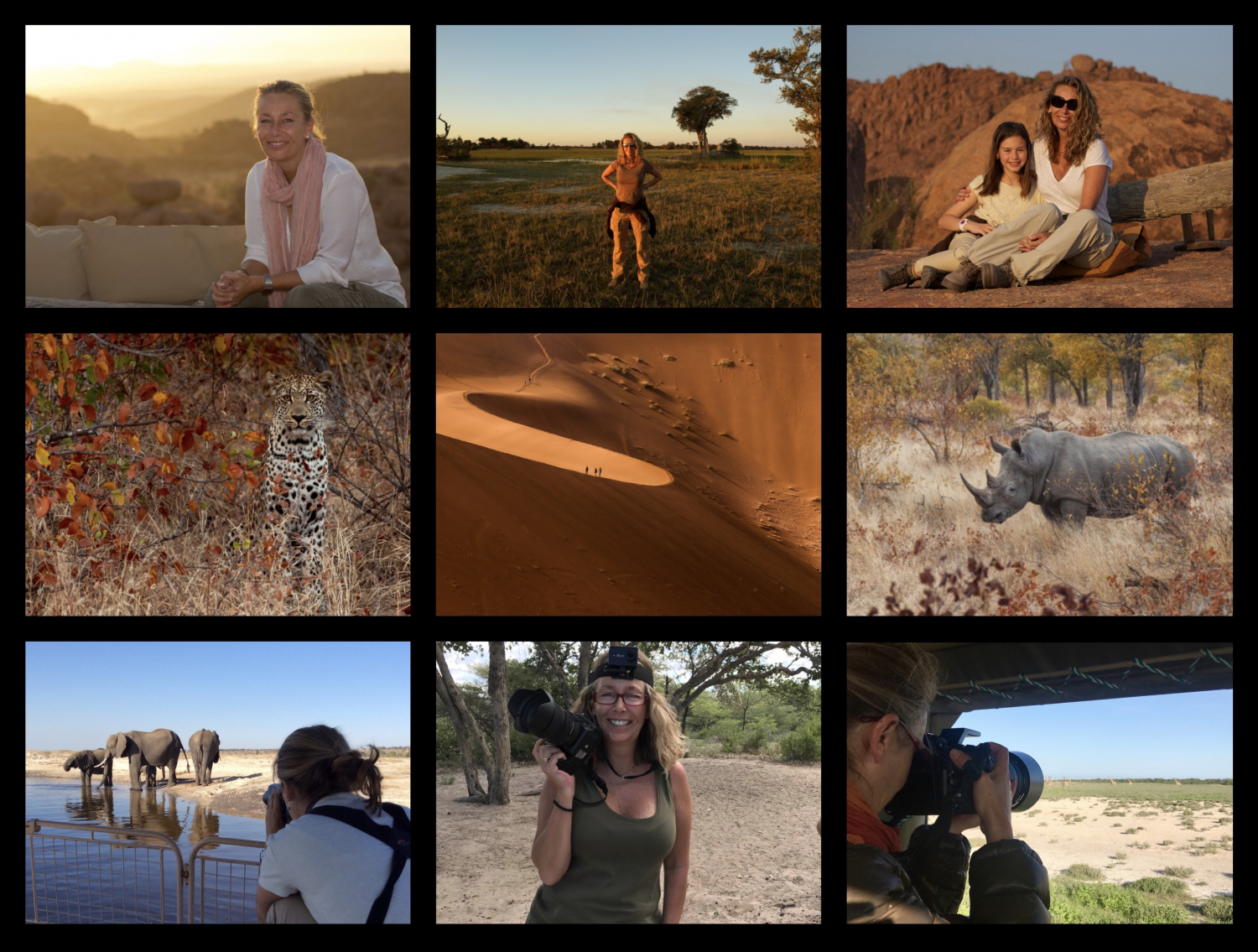 I've always been fascinated by wildlife and wildlife photography ever since I was a child, even my reading habits weren't exactly the usual ones for my age. While my friends read books by Enid Blyton, I was devouring wildlife and nature books, my favourite ones being all of Gerald Durrell's books, which I read and re-read until they were dog-eared and their pages fell out. My other favourite books were the Born Free trilogy by Joy Adamson, I was fascinated by the story of Elsa the lioness and how the Adamson's raised her as a cub and released her back to the wild. 
How I dreamt of travelling to Africa and India, to North and South America, to the Galapagos, to Asia, to Australia, Tasmania and New Zealand, to the Arctic and Antarctic. My love (or should we call it obsession) for wildlife continued into my teens and instead of buying pop records (the vinyl ones...and yes, I'm that old) or make-up like my friends did, I spent my pocket money on National Geographic magazines so I could pore over the amazing photos and eagerly read the articles.
As the years passed, my childhood dream of living in Africa or India to study and photograph wildlife gradually faded away, but it was not forgotten.

At the age of thirty eight, I went on my first safari to Africa, to the Okavango Delta in Botswana, and although it sounds corny, that trip completely changed me. My childhood dream came back with a vengeance and it reignited my passion for photography, so for my fortieth birthday I took the plunge and got my first DSLR, a Nikon D90 with an 18-105 mm lens and since then, there was no stopping me. My photography gear has changed during these past years, but I still have (and cherish) my faithful old Nikon D90.