Cuando hablo de Namibia o enseño mis fotos de este fascinante país, mucha gente me pregunta donde esta Namibia?

Namibia está situado en la costa suroeste de Africa, entre Angola y Sudáfrica. El tamaño del país es de una España y media y solo tiene dos millones de habitantes.

Namibia quizás no sea tan conocido como destino de safari como lo son otros países africanos, pero Namibia ofrece tanto o incluso más y no te decepcionará.
Este país tiene los paisajes más espectaculares del mundo, una costa salvaje e impoluta, es el hogar de dos desiertos, el Namib que es el desierto más antiguo del mundo y el Kalahari que atraviesa tres países, Namibia, Botswana y y Sudáfrica. Namibia es el hogar de tribus indígenas como los Himba, los San, los Herero y los Damara, hay una gran variedad de fauna Africana sub-sahariana y también de una fauna única adaptada al desierto como los leones del desierto y los elefantes del desierto (solo existen dos grupos de estos elefantes en el mundo, un grupo está en Namibia y el otro en Mali). Namibia también es un gran sitio para ver aves y donde existen especies raras y endémicas como la Alondra de las Dunas, el Papamoscas Herero, el Sisón de Damaraland y el Charrancito de Damara, tristemente este último está en peligro de extinción. 
Si sueñas con ir a África y quieres viajar a tu aire, Namibia es el sitio para ti. Es un país seguro, fácil de explorar, ofrece aventura, fauna y experiencias culturales. La gente local es amable y siempre dan la bienvenida con un sonrisa, los robos no son frecuentes y tampoco hay muchos turistas. 
Namibia es una de las joyas escondidas de África.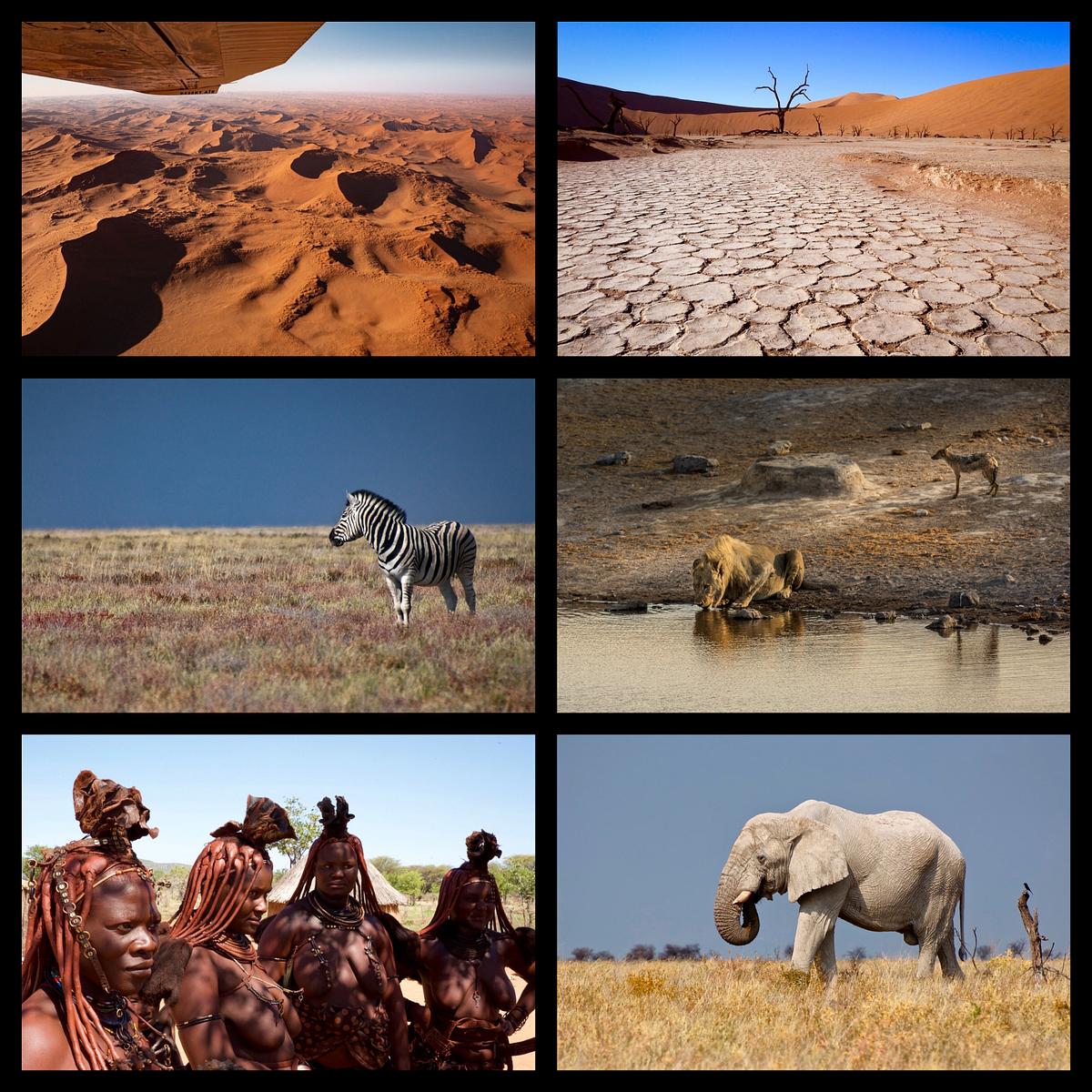 When I talk about Namibia or show my photos from this fascinating country, a lot of people ask me where is Namibia?

Namibia is located on the southern west coast of Africa, between Angola and South Africa. It is about twice the size of Germany and only two million people inhabit this vast country.
Namibia might not be so well known as a safari destination as other countries in Africa, but Namibia has just as much to offer or even more, and it won't disappoint you.
It has the most spectacular landscapes in the world, a wild and pristine coastline, it is home to two deserts, the Namib, which is the oldest desert in the world and the Kalahari, which crosses three countries, Namibia, Botswana and South Africa. Namibia is home to indigenous tribes such as the Himba, the San, the Herero and the Damara. There is also a fascinating array of wildlife that go from the usual Southern African fauna to some very rare desert adapted wildlife, such as desert adapted lions and the desert adapted elephants (only two groups of these elephants exist in the world, one group is in Namibia and the other group is in Mali) Namibia is also a hotspot for birds and home to rare endemic birds such as the Dune Lark, the Herero Chat, Ruppell's Korhaan and the endangered Damara Tern.
If you dream of going to Africa and want to travel independently, Namibia is the place to go. It is a safe country, easy to explore, it offers adventure, wildlife and cultural experiences. The locals are friendly and always welcome you with a smile, theft is rare and tourists are few. 
Namibia is one of Africa's hidden gems.