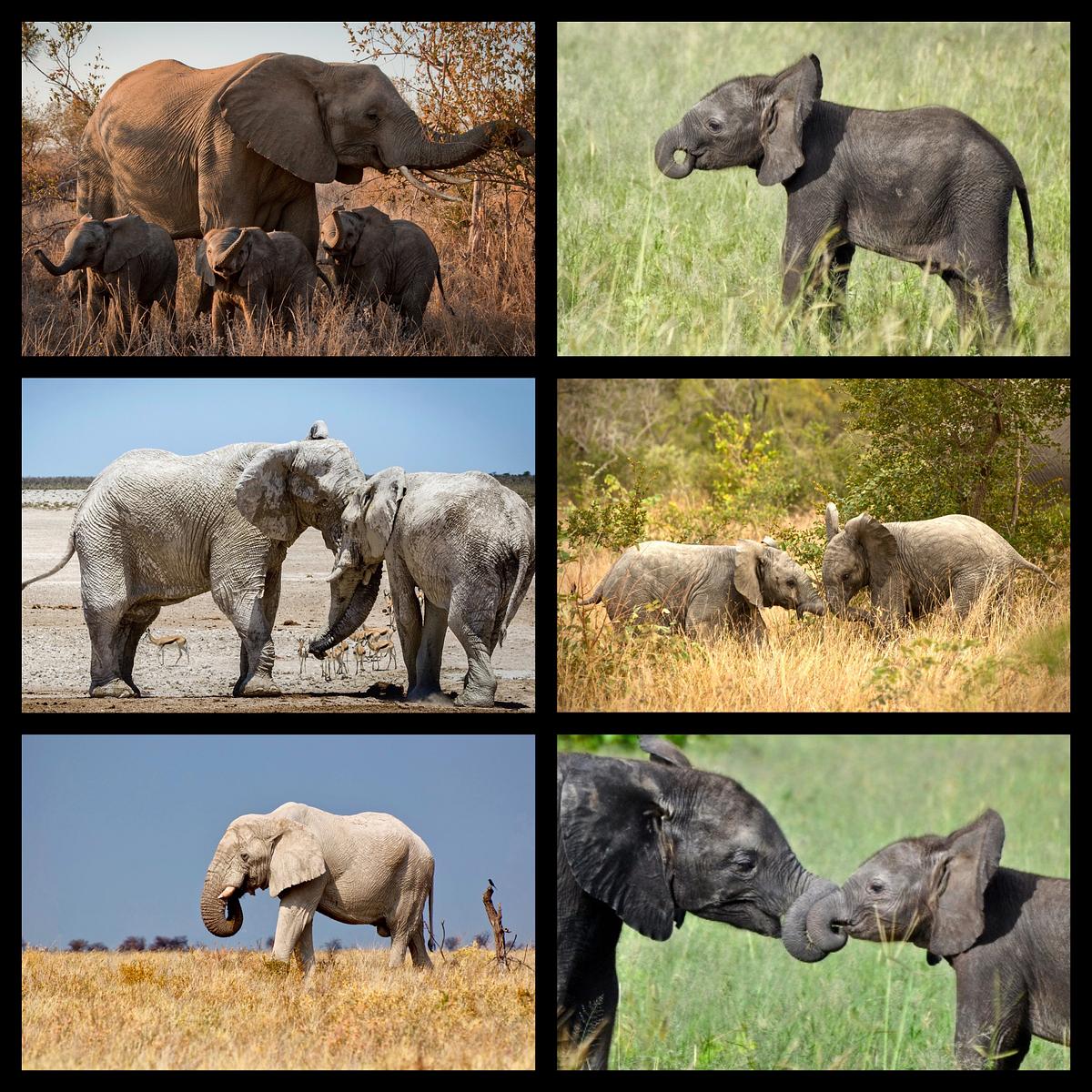 The elephants have approximately 50,000 individual muscles in its trunk. 
At first, baby elephants don't really know what to do with their trunks. They swing them to and fro and sometimes even step on them. When they get frustrated with their wayward appendage, they will suck their trunk just as a human baby might suck its thumb. 
When they are 6 to 8 months old, calves start to use their trunks to eat and drink. By the time they are a year old, they can control their trunks and will use them for eating, drinking, for grasping and holding things.
They say you can tell if an elephant calf is under year old because it can fit under its mother. 
To protect their young from the harsh African sun, mother elephants will often gently push their calves underneath themselves to give them shade. 
After birth, a calf forms a strong bond with its mother and remains in close proximity for the first few years. The mother will nurse her calf for approximately four years, providing essential milk for their growth and development.
During this period, infant elephants are reliant on milk and cannot survive for more than a few weeks without it. However, they do begin to incorporate vegetation into their diet at just a few months old. As elephants are highly tactile creatures, the constant need for physical contact is crucial for the calves' reassurance and well-being.
In a herd, elephants move at the pace of their slowest member, ensuring that the infants are surrounded by nurturing individuals. The young babies are carefully shielded from the elements, including wind, rain, and sun, by the protective herd.
Elephants have a matriarchal social structure and the bond between mother elephants and their offspring can last up to 50 years.

Another fascinating feature of African elephants are their impressive ears, which can reach lengths of up to five feet. These large ears serve as natural fans when flapped, helping to cool the blood that flows near the surface behind them.