Los leopardos son unos felinos fascinantes, hermosos pero muy esquivos, y probablemente son uno de los avistamientos más anhelados y buscados durante un Safari, pero ¿os habéis preguntado alguna vez cómo los conservacionistas o los guías de safari y rangers saben diferenciar quién es quién en el mundo de los leopardos?
Aquí tenéis unos consejos sobre cómo identificar leopardos individuales:
Las manchas en el pelaje de un leopardo son únicos - igual que las huellas dactilares lo son para los humanos, pero a veces no es posible usar esta forma de identificación si el leopardo está en un árbol o medio escondido entre los arbustos.
Así que habría que utilizar otra forma de identificarlos, por ejemplo: observar el rostro del leopardo y usar la forma de identificación llamada "spot pattern" (que se podría traducir como "patrón de motas")
El "spot pattern" se refiere a la fila de motas que están justo encima de la línea superior de los bigotes.
Allí se puede ver que el patrón de motas del leopardo se compone de un número de motas en la mejilla derecha y un número de motas en la mejilla izquierda.
Para poder identificar correctamente al leopardo, se debe utilizar primero el número de motas en la mejilla derecha y luego el número de motas en la mejilla izquierda para describirlo así 2:3 = 2 motas en la mejilla derecha y 3 motas en la mejilla izquierda, o 2:2 = dos motas en la mejilla derecha y dos motas en la mejilla izquierda etc.
Es posible que más de un leopardo tenga la misma combinación de motas, por lo que habría que tener en cuenta otras características para poder diferenciarles, por ejemplo: si es macho o hembra, si hay alguna cicatriz en la cara o el cuerpo, si tiene muescas en las orejas, una agrupación inusual de manchas o motas cerca de los ojos, etc.
Como los leopardos son territoriales, el conocimiento de sus territorios también juega un factor importante en su identificación.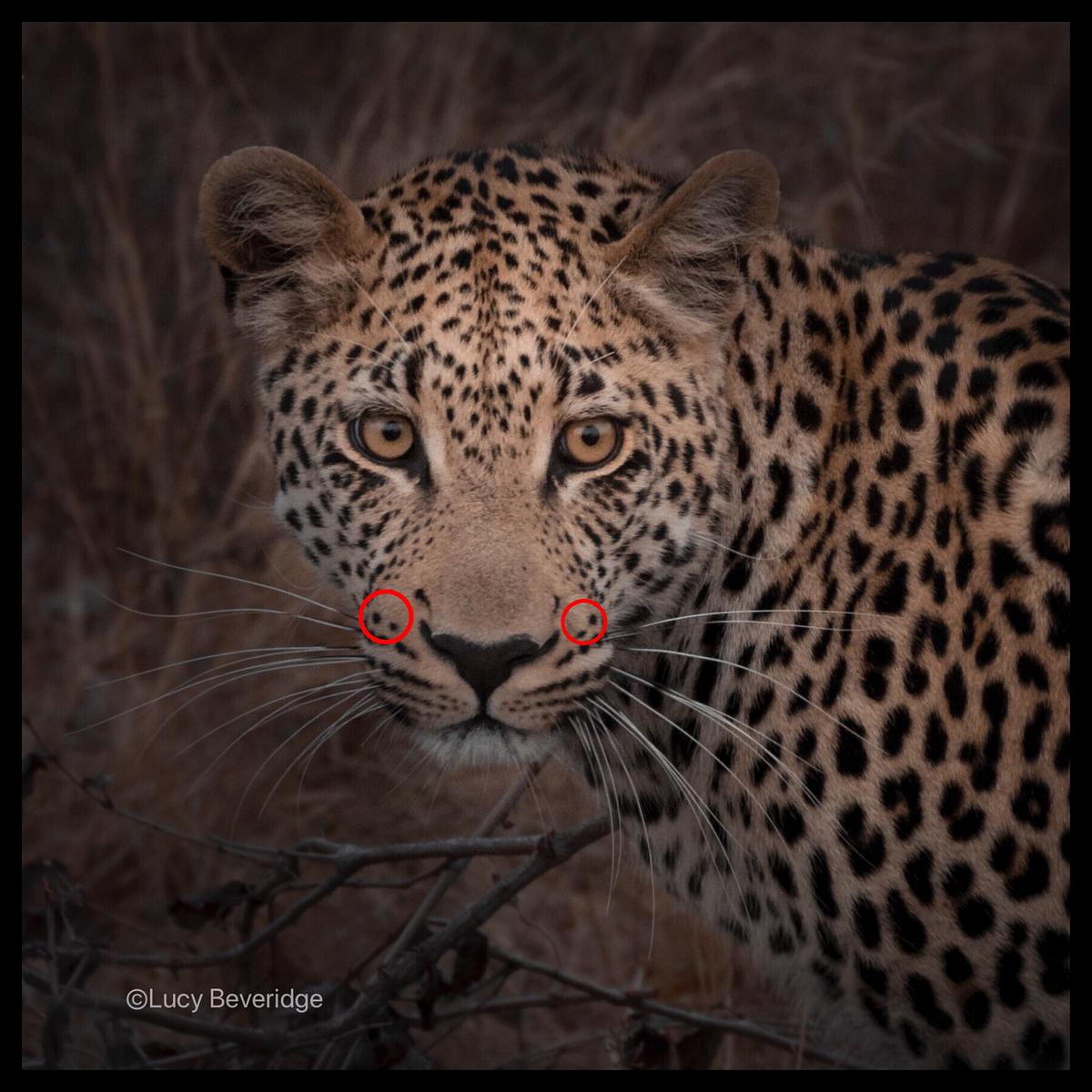 A leopard can't change its spots...
Leopards are extraordinary cats, beautiful yet elusive and probably one the most  sought after sightings while on Safari, but have you ever wondered how conservationists or safari guides and rangers know who is who in the leopard world?
Here are a couple of tips on how to identify individual leopards:
The rosette patterns on a leopard's coat are like fingerprints to humans, but sometimes it's not possible to use this form of identification if the cat is resting in a tree or half hidden in the bushes. 
So another way to identify them would be to look at their face and use the "spot pattern" form of identification. 
Spot patterns refer to the uppermost row of spots on the leopard's cheeks, just above the upper line of whiskers.
There you will see that the leopard's spot pattern is made up of a number of spots on the right cheek and a number of spots on the left cheek. 
In order to correctly identify the cat you would you use the number of spots on the right cheek first and then the number of spots on the left cheek. 
So it would look like this 2:3 = 2 spots right cheek and 3 spots left cheek or 2:2 = 2 spots right cheek and 2 spots left cheek etc.
It can be possible that more than one leopard will have the same combination of spots, so other features will have to be taken into account to differentiate them: such as if they are male or female, if there are any distinct scars on the face or body, notches on the ear/s or unusual clusters of spots near the eyes etc.
As leopards are territorial, the knowledge of their territories also plays an important factor regarding their identification.